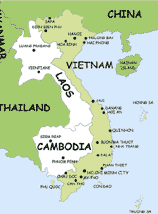 Emeraude Cruise
Classic French Colonial Paddle Wheeler Replica - circa 1906! $USD 180, 2 Days/1 Night (per person based on cabin dbl.)
info@halongtravel.com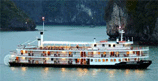 84-913349731
Head Office:
Address: 10 Tayson Str, Hanoi City. Vietnam
Hotline: 0913349731
Tel: (84-4) 8518265- 5332055 ; Fax: (84-4) 5332055
Email info@halongtravel.com


HUONG GIANG HOTEL - HUE - VIET NAM


49 Le Loi, Hue, Vietnam
DESCRIPTION:

As a three star hotel, Huong giang hotel located at 51 Le Loi, Hue, just on the bank of Huong River, the hotel mirrors itself into the poetic and gleaming water of the peaceful river.
Designed in oriental style, the Huong Giang hotel is surrounded by tropical gardens blooming all year around, cool in the summer, warm in the winter.

Huong Giang hotel - Hue

INTERNET BOOKING RATES:

All rates are in US$, include breakfast, VAT & 10% service charges.
No charge for child under 12 when sharing bed with parents.
15 USD more for triple rooms.

Room Type
Single
Double
VALID UP TO 30 APR 2004
Garden view
48
50
River view
60
62
Super Suite
135
135

ACCOMMODATION AT HUONG GIANG HOTEL:

Designed to ancient imperial courts, the Hotel has 135 rooms fully equipped at international three-star standard with modern comforts and other services.
Standard: 36 standard rooms with salon, table; 30 m2.
Garden view: 50 rooms of garden view to enjoy the relax time at Hue; 30 m2.
River view: 24 rooms give you the unforgettable morning, by looking out of the Huong Giang Hotel's window, you will find yourself in a peace and beautiful resort; 30 m2.
Superior Suite: 16 comfort your house in Hue; 45 m2.

RESTAURANTS AND OTHER SERVICES:

Restaurants: Royal restaurant with 500 seats serve royal dishes of the old citadel Hue, with its skillful employees in ancient imperial costumes of Hue courts. At Huong giang hotel, it is worth to try Rooftop Bar with overlooking the Huong River and the overall city view, offering Vietnamese, French and Chinese dishes or Basement Bar located rightly on the Huong river bank serving tasty food and beverage as well as a wide choices of snack and drinks.
Tour operation office: Tour arrangement, air and train ticket booking service, Organization representation of traditional Hue singing and royal dancing.
Facilities: Hairdressing and Beauty salon; Tennis court; Swimming pool; Health club and Fitness center; Sauna and Massage; Souvenir shop.
Limousine services and Car rental service.
Business center: Conference hall accommodating up to 350 persons. 2 banquet rooms. Fully equipped Audio-visual meeting room and secretarial services. Internet and E-mail.