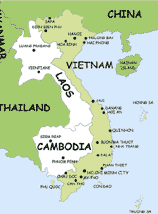 Emeraude Cruise
Classic French Colonial Paddle Wheeler Replica - circa 1906! $USD 180, 2 Days/1 Night (per person based on cabin dbl.)
info@halongtravel.com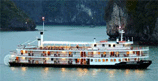 84-913349731
Head Office:
Address: 10 Tayson Str, Hanoi City. Vietnam
Hotline: 0913349731
Tel: (84-4) 8518265- 5332055 ; Fax: (84-4) 5332055
Email info@halongtravel.com


HOI AN BEACH RESORT - HOI AN - VIETNAM



Cua Dai Beach, HoiAn, Vietnam.
DESCRIPTION:

Hoi An Beach resort is located 4km away from the Hoi an ancient town at a beautiful place between De Vong River and Cua Dai Beach in the East. A ideal place for tourists, at which visitors can both enjoy relaxing at the seaside, visiting the World Heritages: Hoi an town and My Son holy land.
Hoi An Beach resort consists of many villas that are characterized by the style of traditional Vietnamese village. The garden setting and villa style provides guests with a perfect location to unwind and enjoy the beach and hotel sports facilities.

Hoian Beach resort, Hoi an, Vietnam

INTERNET BOOKING RATES:

All rates are in USD, inclusive breakfast, Vat & service charges.
No charge for child under 12 when sharing room with parents.
For extra bed, please add 15 USD more/bed.

Room Type
Single
Double
Garden view
65
65
River Deluxe
70
70
River Villa
85
85
Ocean House
90
90

ACCOMMODATION AT HOI AN BEACH RESORT:

The hotel comprises 70 relax rooms equipped with modern comforts and all the services expected in a modern international standard resort. The beautiful polished wood interiors provide the perfect atmosphere for a beach-side holiday. Each room equipped with bathroom, IDD Tel, mini bar, AC and fan, satellite tivi, salon, security lock, hair dryer, table and chair in the balcony.
Garden view: 60 m2 room and balcony rooms with bonsai and coconut garden view, giving a sense of nature closeness.
River view deluxe: 65 m2 room and balcony rooms overlooking the poetic De Vong river.
River view Villa: 65 m2 room and balcony vila overlooking the poetic De Vong river.
Ocean view Vietnamese House: 70 m2 room and balcony overlooking the Cua Dai beach, with the roofed thatch, wooden ceiling, bamboo-made bathroom.

Garden, River view room

FOOD AND OTHER SERVICES:

Restaurants: Cua Dai restaurant serve you with the best local fresh food, include exquisite seafood, Vietnamese cuisine and Royal dishes. You may both enjoy the sightseeing of the romantic river and drinks at Snack Bar at the Pool side.
Tour service: Airport pick-up service, Tour desk, Sightseeing tours, Motor-bike & bicycle rental.
Water sports : 2 outdoor Swimming pool, boat sailing, fishing, machine boat for rental runs by battery.
Land sport : Jacuzzi, Billiards & snooker, Beauty Salon & Tailor shop, Badminton yard.
Health Club : Fitness center; Sauna, Steam-bath, Gymnasium, Spa.
Shopping: Tailor and souvenir shop
Business services :

With 3 conference rooms and good location

Hoi An Beach Resort is an ideal place for holding meeting in Central Viet Nam.