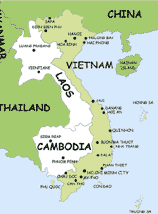 Emeraude Cruise
Classic French Colonial Paddle Wheeler Replica - circa 1906! $USD 180, 2 Days/1 Night (per person based on cabin dbl.)
info@halongtravel.com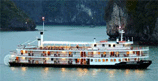 84-913349731
Head Office:
Address: 10 Tayson Str, Hanoi City. Vietnam
Hotline: 0913349731
Tel: (84-4) 8518265- 5332055 ; Fax: (84-4) 5332055
Email info@halongtravel.com


HILTON OPERA HOTEL - HANOI - VIETNAM



01 Le Thanh Tong, Hoan kiem district, Hanoi, Vietnam

DESCRIPTION:

Situated adjacent to the Hanoi Opera House in the heart of Hanoi, the opening of the Hilton Opera Hanoi hotel is music to the ears of business and leisure travelers alike. Inspired by the character of the famous Opera House opposite, this magnificent boutique-style hotel is a fusion of two long established traditions – gentle Vietnamese hospitality and graciousness, and the Hilton's assurance of total reliability, impeccable service and first-class facilities.
The minute you arrive at your new 7-stories colonial styled home, you feel the warm, friendly embrace of the Hilton Hanoi Opera hotel. This grand new hotel blends beautifully with its surrounding environment – a new landmark that sits elegantly in the heart of the city center within walking distance of the business district, local attractions & shopping districts, especially the Old quarter.

Hilton Opera hotel, Hanoi, Vietnam

INTERNET BOOKING - PAY AT HOTEL RATES:

All rates are in US$, include breakfast, Vat & service charges.
No extra charge for child under 12 when sharing beds with parents.
Add more 35USD for an extra bed.
Visa, Master card and traveler check are accepted.
Airport transfer: $20/way for a 4 seats car; $30/way for a mini van.

Room

Single
Double
Deluxe
90
90
Executive
150
165




ACCOMMODATION AT HILTON HOTEL

All 269 elegant rooms & suites decor in a red or green traditional Vietnamese offers City or Opera House view. All rooms equipped with: AC (H/C), satellite TV, in-house movie, IDD phone, safety-box, mini-bar, radio/music system, voice mail, data port, coffee/tea making facilities, rollaways, luxuriously fitted bathrooms with separate shower units, shaver and hair dryer outlets.
Deluxe: 140 rooms in Regular floors.
Executive Deluxe: 80 rooms in Executive floors.


Deluxe room
RESTAURANT AND OTHER SERVICES:

Restaurant: Turtle's Poem – an exquisite Chinese restaurant that affords you the luxury of dining. Brasserie Chez Manon with views of the Hanoi Opera House and gardens compliment contemporary Brasserie cuisine and local Vietnamese specialties. The Bar des Artistes is a cozy bar that offers guests live music in the evenings and splendid bistro options at lunch time. The unique "open" bakery and gourmet shop, Cafe Opera, has an aroma that attracts you to its irresistible pastries and chocolates.
Facilities: The hotel has the latest Health Club facilty including a fitness center, sauna, whirlpool and massage center, a swimming pool with its own snacks and bar service. Florist, gift shop and newsstand.
Conference Center: All 9 meeting rooms feature tate-of-the-art technical support Business Center. The Hilton Opera Hanoi boasts a grand ballroom which accommodates around 600 guests for a cocktail reception and 350 guests for a sit down dinner.