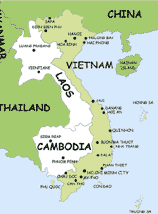 Emeraude Cruise
Classic French Colonial Paddle Wheeler Replica - circa 1906! $USD 180, 2 Days/1 Night (per person based on cabin dbl.)
info@halongtravel.com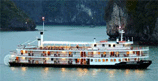 84-913349731
Head Office:
Address: 10 Tayson Str, Hanoi City. Vietnam
Hotline: 0913349731
Tel: (84-4) 8518265- 5332055 ; Fax: (84-4) 5332055
Email info@halongtravel.com


FURAMA RESORT - DANANG - VIETNAM



68 Ho Xuan Huong, Bac My An, Danang, Vietnam.
DESCRIPTION:

Furama Danang resort blends French colonial style with traditional Vietnamese architecture. Each room features a spacious private balcony with a view of the ocean or a fresh water swimming lagoon or tropical garden.
The Furama Resort aims to make your stay in Vietnam a unique and unforgettable experience. Whether you prefer to be active or just relax, Furama Da nang resort offer a whole range of recreational with perfect fitness center and sports facilities or cultural activities with high-class packages to suit everyone.

Furama Danang resort

INTERNET BOOKING RATES:

All rates are in USD, inclusive Vat & service charges, exclusive breakfast. Breakfast: 12USD++/Adult, 6USD++/Child.
No charge for child under 12 when sharing bed with parents.
Add 35 USD more for triple rooms.
Transfer: 4USD/pax from Da nang airport.

Room Type
Single
Double
FOR 01 OCT 03 - 30 SEP 04
Garden view
125
125
Lagoon view
155
155
Ocean view
185
185

ACCOMMODATION AT FURAMA RESORT DANANG:

All 198 luxurious rooms and suites features a spacious private balcony or terrace. Each room equipped with bathroom, three telephone sets, mini bar, AC and fan, satellite Tivi, business desk and tea/coffee making facilities, security lock.
Garden view: 40 m2 plus 11 m2 balcony for tropical garden view.
Lagoon view: 47 m2 room plus 11 m2 balcony for tropical garden and freshwater swimming view.
Ocean view: 40 m2 room plus 11 m2 balcony for beach view.

Garden, Lagoon & Ocean room

FOOD AND OTHER SERVICES:

Restaurants: Indochina Cafe serve you exotic mixture of Vietnamese, Chinese, Malay, Thai, Indian, Indonesian as well as international favorites. Overlooking the white sands China Beach, the Ocean Terrace is a peaceful, pool-side setting for al fresco dining, inspired of Italian and Mediterranean dishes. Hai Van Lounge and Lagoon bar offers a colorful array of cocktails, snack and drinks.
Swimming lagoon has whirlpools, waterfalls and spacious Jacuzzi. Terraced swimming pool overlooking China Beach.
Water sports : water-skiing, snorkeling, jet skis, parachute, laser boat sailing and wind surfing.
Land sport : 4 floodlit tennis courts with resident coach. Beach volleyball; Badminton; Golf driving range. Billiards, snooker and table tennis. Mountain bicycles; Archery; Kite-flying.
Health Club : Fitness center; Tai Chi and Yoga classes
Baby-sitting service; Laundry and dry cleaning.
Business services : Courier, parcel and postal services; Facsimile and Internet access; Photocopying and laser printing; Translation and other services.