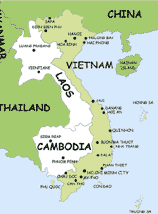 Emeraude Cruise
Classic French Colonial Paddle Wheeler Replica - circa 1906! $USD 180, 2 Days/1 Night (per person based on cabin dbl.)
info@halongtravel.com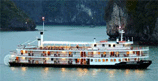 84-913349731
Head Office:
Address: 10 Tayson Str, Hanoi City. Vietnam
Hotline: 0913349731
Tel: (84-4) 8518265- 5332055 ; Fax: (84-4) 5332055
Email info@halongtravel.com


DONG DA HOTEL - HUE - VIET NAM

DESCRIPTION:

Located at 17 Ly Thuong Kiet Hue, Dong da hotel is a two star hotel of Hue.
Just a few minutes walk from the Perfume River, give you a walking distances for enjoyment the city's historical sites and relaxation along the river
Convenient for individual tourists, groups and business people.

Dong da hotel - Hue

INTERNET BOOKING:

All rates are in US$, include breakfast, VAT & 10% service charges.
No extra charge for child under 12 sharing room with parents.
10 USD more for triple rooms.
Visa, Master card and traveler check are accepted.

Room Type
Single
Double
Standard
30
32
Family
37
37

ACCOMMODATIONS AT DONG DA HOTEL:

40 international standard room fully equipped with AC, mini bar, satellite TV, IDD phone, hair dryer and private bathroom.
Standard: 26 standard rooms with two big beds, 18 m2.
Family: 14 rooms for family use with salon, writing table, 24 m2.

Standard and Family room

RESTAURANTS AND OTHER SERVICES:

Restaurants with several dining rooms with Western and Asian, Vietnamese dishes, especially you also can taste food originally developed for the royal family of Vietnam.
Tour operation office: Tour arrangement, air and train ticket booking service, Organization representation of traditional Hue singing and royal dancing.
Car rental service, Money exchange.
Safety deposit boxes, 24 hours security, money exchange.
Laundry and dry cleaning.
Souvenir shop.
Business center: Conference Rooms, Internet and E-mail.