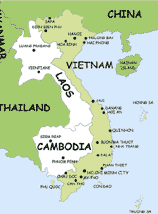 Emeraude Cruise
Classic French Colonial Paddle Wheeler Replica - circa 1906! $USD 180, 2 Days/1 Night (per person based on cabin dbl.)
info@halongtravel.com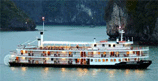 84-913349731
Head Office:
Address: 10 Tayson Str, Hanoi City. Vietnam
Hotline: 0913349731
Tel: (84-4) 8518265- 5332055 ; Fax: (84-4) 5332055
Email info@halongtravel.com


ANA MANDARA RESORT - NHA TRANG - VIETNAM



Beach side Tran Phu road, Nha Trang, Vietnam
DESCRIPTION:

Ana Mandara resort located directly on the beach off the most famous thoroughfare, Tran Phu Boulevard, the resort rests comfortably on 20,000 square metres of private tropical gardens overlooking the sea. The delicate blend of graceful architecture and gracious service, peaceful atmosphere and captivating scenery, Ana Mandara offers a unique experience in simplicity, serenity & refinement. Relaxing on the white sandy beach, listening to the lapping of the waves will soon make any worries disappear.
Ana Mandara means "beautiful home for the guests". Reminiscent of an old Vietnamese village, and furnished with native woods and rattan, the resort reflects the real image of Vietnam. From the moment you step foot in this your 'home away from home' a truly unforgettable sense of warmth can be felt. This warmhearted Ana Mandara hospitality combined with the stunning architecture and peaceful surroundings will ensure an unforgettable experience from which a lifetime of fond memories can be taken with you.




Ana Mandara resort - Nha trang - Vietnam

INTERNET BOOKING RATES:

All rates are in USD, inclusive breakfast, Vat & service charges.
No charge for child under 12 when sharing bed with parents.
For extra bed, please add 37 USD more/bed.
Summer Promotion: 01 Jun - 30 Oct 2003
++ Garden view: 100/110
++ Sea view: 120/130
++ Deluxe: 140/150
Transfer service: free two ways from airport to resort and from resort to airport.

Room Type
Single
Double

01 JAN - 09 JAN 2004

Gardenview
163
176
Seaview
208
218
Deluxe
238
252

10 JAN - 30 APR 2004

Gardenview
145
155
Seaview
183
198
Deluxe
220
235

01 MAY - 14 JUL 2004

Gardenview
106
118
Seaview
129
142
Deluxe
157
170

15 JUL - 31 AUG 2004

Gardenview
145
155
Seaview
183
198
Deluxe
220
235

01 SEP - 31 OCT 2004

Gardenview
106
118
Seaview
129
142
Deluxe
157
170

ACCOMMODATIONS AT ANA MANDARA RESORT

The 68 rooms of 16 villas at the resort have their own private terrace along with all amenities and comforts of a five star resort.
Each room features king-size or twin beds, full size bath, AC, fan, IDD telephone, in-room safe, satellite tivi, mini-bar, coffee/tea making facilities, hairdryer, stationery kit, newspapers. Room's balcony can be used as your Villa Dining of your own.
Gardenview villa: 32 rooms of 27m2 include balcony; garden view
Seaview villa: 32 rooms of 27 m2 include balcony; beach view
Deluxe: 24 room of 32m2 include balcony. Some rooms have connecting doors with garden view villa




Garden and Deluxe room

FOOD AND OTHER SERVICES:

Restaurants: Open-air and traditional de'cor at Ana Pavilion restaurant offering a wide selection of Vietnamese and International cuisine in its spectacular panoramic view of Nha Trang Bay. Lobby bar features an open-air cocktail lounge, set within a bamboo garden terrace, the perfect setting for a relaxing drink or old-fashioned cocktail. The Pool bar offers a wide variety of exotic drinks to quench your thirst, complimented by delicious finger foods and lighter items.
Swimming pool is open from dawn to midnight, with the adjacent Jacuzzi. Alternatively guests are tempted into the warm transparent waters off the resorts private beach.
Water sports: water-skiing, snorkeling, jet skis, parachute, scuba diving, Moonlight cruises.
Land sport: Tennis court, Beach volleyball; Badminton; Billiards, snooker and table tennis. Mountain bicycles; Archery; Kite-flying.
Six Senses Spa : Located alongside the beach in a coconut plantation, the holistic Six Senses Spa sets new standards in spa design with the use of natural tones, traditional Vietnamese style and water elements.
Business services : the meeting rooms are available for casual seminars, meetings, cocktail receptions, or private dinner parties. The meeting rooms are equipped all necessary equipments and stationeries.